A tiny puppy named Beyonce, not much bigger than a business card, has defied odds by surviving. At a day old, Beyonce could fit in a tablespoon.
Now, at a little more than 2 weeks old, she is almost as big as an iPhone. Beyonce's mother, Casey, a dachshund mix, was abandoned by her owners and living on the streets of San Bernardino, Calif., when she was picked up by Devore Animal Control.
The pregnant Casey was then scheduled to be spayed and have her puppies aborted, as happens with many stray pregnant dogs, when a veterinarian determined she was too far along to end the pregnancy.
Casey was scheduled for euthanasia — with her pups inside her — when the Grace Foundation in Northern California came to the rescue.
"They call us when there is absolutely no other alternative, when these dogs are on death row," Jeanne Warr, the Grace Foundation's director of operations, said.
An ultrasound showed that Casey was carrying five puppies, one of which was "abnormally small," said Warr.
"At that point, they didn't even know if she was going to be stillborn or a viable puppy."
On March 8, Casey delivered all her puppies, and Beyonce came out last.
"She was not breathing. Her heart was not pumping," Warr said. "Dr. Michael Russell did some little chest compressions on her and Beth DeCaprio [the Grace Foundation's executive director], gave her mouth-to-mouth … and she made it."
The foundation reports that Beyonce is "thriving and normal in every way," despite her shaky start.
In about six weeks, Beyonce, the four other pups and mother Casey will all be up for adoption.
The foundation has already alerted the Guinness World Records that it might have the world's tiniest dog on its hands.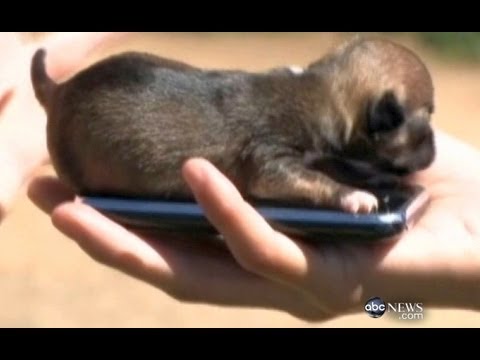 As the Filipino contender, June Rey Balawing edges closer to being declared the world's smallest man, the battle for cuteness also hots up.
Which of the two are the cutest?
On the one hand we have Khagendra Thapa Magar (26.4 in / 67 cm) from Nepal who become our unofficial mascot. On the other hand we have the newcomer June Rey Balawing (22 in / 56 cm) from the Philippines, but not yet recognized by Guinness. Each one has their own charm, but who is the cuter of the two?
Take the Poll on the right hand side of the main page and vote on your choice!
June Rey Balawing

Khagendra Thapa Magar

Let the battle of cuteness begin!
For those who have followed WWN for some time will know that we have declared Khagendra Thapa Magar to be our unofficial mascot.
Khagendra Thapa Magar became the world's most loved record breaker by becoming the world's shortest man on his 18th birthday.


Now a challenger has emerged from the Philippines!
Junrey Balawing, a 17-year-old Filipino, is said to be just 22 inches tall. This is a full 2.6 inches shorter than Khagendra Thapa Magar IF proven.
Guinness World Records is going to visit the town of Balawing in June when Junrey Balawing turns 18.
They will measure him three times during the day, standing up and lying down each time. The average will then become the registered entry.
If Junrey Balawing is confirmed as the shortest man in June, the title will have changed hands four times in 15 months!