A viral video currently spreading on China's internet features a Chinese woman fighting with a man who turns out to be the groom's boyfriend, the groom helplessly caught between them trying to explain.
In China, it is common for gay men and women to get married because of the pressure put on them by their parents and family to have a baby. In these cases the spouse mostly does not know that their partner is gay.
The translated dialogue courtesy ChinaSmack:
Boyfriend: You shut up, us two were together long before you entered the picture!
Bride: What do you mean you two were together long before I was in the picture?
Groom: Hey hey, don't get physical, don't get physical.
Bride: Just who the fuck are you!?
Boyfriend: Shut up!
Bride: It's my wedding, what are you doing here?! Who are you? Who is he?
Groom: Wait, wait, wait.
Bride: Who is he? Tell me, who is he?
Groom: Let me explain.
Boyfriend: Don't explain to her.
Bride: What are you doing, what fucking business is it of yours?
Best Man: Enough, enough, both of you calm down.
Bride: Tell me, who is he? Who is he?!
Bride: You come back here!
Some people have claimed that this video could be fake and may be the end of a short film.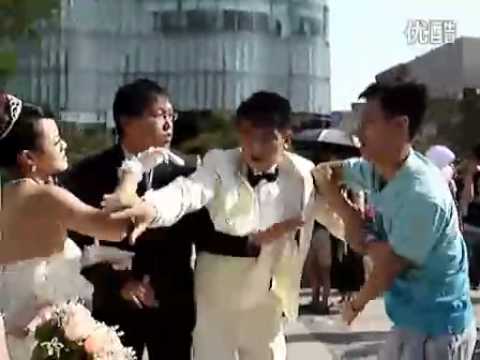 49-year-old Dr. Jacquelyn Kotarac was reportedly involved in an 'on-again, off-again' relationship with the man, and had tried other methods of breaking into his house before her ill-fated attempt to enter via the chimney.
Kotarac first attempted to get into the house last Wednesday night using a shovel, before she climbed a ladder to the roof, removed the chimney cap and slid feet first down the flue, according to police in Bakersfield, California.
While she was attempting to gain entry, the man escaped the house through another exit in order to 'avoid a confrontation,' police said.
Police say that it appears Kotarac died after getting stuck in the chimney, but nobody realised her body was there until a house-sitter noticed an unpleasant smell and fluids coming from the fireplace on Saturday.
The house-sitter and her son used a torch to examine the chimney, and found Kotarac's body wedged about two feet above the top of the interior fireplace opening.
Firefighters spent five hours late Saturday dismantling the chimney and flue from outside the home to extract Kotarac's body, DeGeare said.
Check out the whole story at: Metro