Organizers of a Russian river race involving inflatable sex dolls said that municipal officials have forced them to cancel the event.
The organizers said that Priozersky municipality officials told them that the Bubble Baba Challenge-2012, which involves competitors floating down a river on blow-up dolls, would not be allowed due to high waters and road work on a bridge over the Vuoksa River.
The organizers said on the race's Web site they suspect the decision may be linked to recent government crackdown on opposition-related events.
"There is a suspicion that at a time of rising opposition sentiment in society, the authorities will be fighting any mass events this way," they wrote.
Bubble Baba Challenge 2011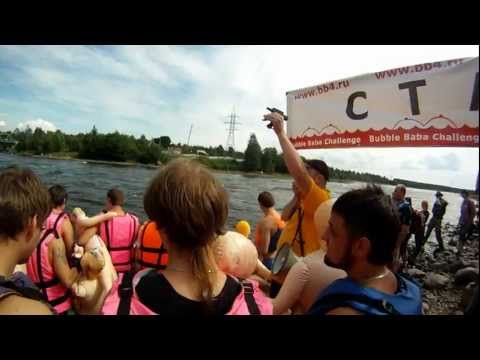 56-year-old Pauline Long from Portland, Oregon, has transformed herself into a mermaid for an afternoon and took a quick dip in her neighborhood pool.
Folks have been buzzing about this for a few days now after Long (who goes by Myst when she's in mermaid mode) made her big debut earlier this week at Pier Pool in North Portland.
"They were kind of looking like 'uh, ok.' " Long said when we talked to her on Thursday and asked what kind of reaction she got that first time. "There was a little girl on the side (of the pool) yelling 'mommy look – a mermaid, a mermaid!' "
"It was really cool, but somehow strange," said Jonathon Penner, one of several kids at the pool who were fascinated, and perhaps a little perplexed, at seeing a real live mermaid (ok, someone dressed up as one) at the pool. "I didn't know what was going to happen. It was kind of weird."
"I think it's cool because no one else really does that," 10-year-old Rebecca White told us when we asked her what she thought about it all. And that tail? "I kind of want one," she said.
So does Long really think she's a mermaid? No, of course she doesn't – it's all just for fun. And she enjoys the way it makes her feel.
"It's graceful," she said. "It doesn't matter whether you're a size 2 or a size 22, you're graceful as you are. You're actually more graceful in the water than maybe on land. It's just a great feeling."
"It's creative, fun loving and she's enjoying life," said Sandra Parks, a woman who was at the pool when we stopped by. She told us she thought it was wonderful what Long was doing. "She obviously has some limitations there with mobility, but she's just enjoying it."
Long has disabilities that she deals with and said spending time at the pool helps her out physically. And of course swimming in a mermaid suit is a good workout, as you can imagine. She said you basically do constant dolphin kicks to keep yourself afloat.
"Just doing it a couple of times this week I've got sore muscles," she said. "With the one fin, the monofin, it really gives you a good core workout."
So does Long plan on doing this some more? You bet she does, although she said she doesn't plan on being a mermaid every day, just every now and then. So you might spot 'Myst' at Pier Pool or you might not, depending on the day.
Long is actually part of a group of a couple of dozen mermaids here in the Portland area called Northwest Mermaid Pod. She said they are planning to do a group swim, in full costume, coming up on August 19 at the McMenamins Kennedy School.
And Long (along with her fiance) also dresses up as a pirate and attends festivals and charity events. She said she first got the idea to become a mermaid after seeing some in costume at a pirate festival.
Source with more photos
A couple were taken into custody in Fort Wayne, Indiana, after driving from a liquor store with their children strapped to the hood of the car with a tow strap.
Aaron Stefanski, father of three of the children and the driver of car, thought that it would be fun for the children to ride on the hood of the car. Jessica Clark, the parent of the fourth child allegedly assisted him with strapping the children the car.
The children, ages four, five, six and seven appeared unharmed and were quoted in the local paper as saying they agreed to do it because it sounded like fun.
Stefanski, 29, has been charged with neglect of a dependent, operating a vehicle while intoxicated and four counts of criminal recklessness. Clark, 29, has been charged with neglect of a dependent.
Child Protective Services is investigating possible child neglect.