Dr Evil's inspired request for "sharks with frickin' laser beams attached" has finally been fulfilled in the real world.
Luke Tipple, a Marine biologist/TV personality, attached a 50-milliwatt green laser to a lemon shark (Negaprion brevirostris) off the coast of the Bahamas in late April.
The shark was nicknamed Mr. Bigglesworth, after Dr. Evil's cat from the Austin Powers movies.
The bizarre plan was sponsored by Wicked Lasers, a consumer-focused laser manufacturer based in Hong Kong that produces some of the most brilliant — and potentially dangerous — handheld lasers in the world.
The laser used was a modified 150mW+ S3 Krypton. Operating around ~40mW low power mode, and ~200mW high power mode.
"This was definitely a world first," Tipple told Wired. "Initially, I told them no. I thought it was a frivolous stunt. But then I considered that it would give us an opportunity to test our clips and attachments, and whatever is attached to that clip, I really don't care. It was a low-powered laser that couldn't be dangerous to anyone, and there's actually useful applications in having a laser attached to the animal."
"The shark didn't really like it when I initially deployed the clamp," says Tipple, "but after a few seconds it returned to normal behavior. The clamp itself isn't strong enough to cause any pain, and the dorsal fin is actually not very sensitive due to it being composed primarily of cartilage."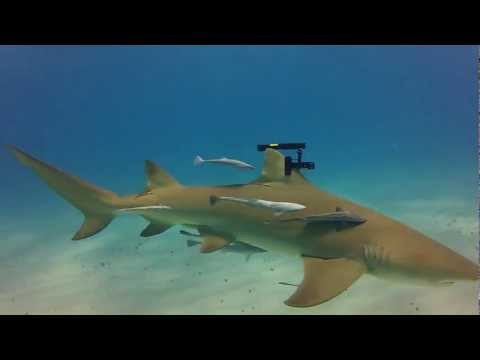 "The laser we were using wasn't strong enough to cause ocular or thermal damage to other sea life," he continued.
"Although further testing is necessary, time and time again, sharks were actually attracted to the laser beam," he said.
Already scientists and animal rights activists have condemned the stunt.