Man arrested for surfing in frigid Chicago
Chicago police arrested and ticketed a man for surfing in the frigid waters of Lake Michigan.
Rex Flodstrom, 40, was ticketed Tuesday for surfing more than 50 yards from shore, unlawful presence on a closed beach and jeopardizing the safety of others on the beach.
"I was surfing and saw a couple of guys on the beach and thought that they were spectators…I figured they might be friends or just someone checking it out. Then I noticed a car and a couple others pull up," said Flodstrom in a video interview with a FOX affiliate station in Chicago.
"When it was time to come in I didn't know it was going to be a big situation, but I walked onto a hostile beach. They immediately grabbed me, handcuffed me, took me to the station and the regular police stuff…I was thinking this was insane."
To add insult to injury, police also confiscated his surfboard.
Police said they received a call about 5 p.m. about a man in the lake near the Oak Street Beach and found Flodstrom on his surfboard.
The temperature in Chicago at the time of the incident was in the upper 20s, the National Weather Service reported.
"Lifeguards are no longer on duty and swimming is discouraged at all beaches," the Chicago Park District Web site said of the beach.
Until recently, surfing was completely banned in Chicago. The law was reportedly enacted after a deadly tragedy that involved three girls and an inflatable raft.
But in 2009, backed by efforts from a group that would later become the Surfrider Foundation Chicago Chapter, the city lifted the ban on surfing in certain beaches.
Presently, there are four breaks accessible to surfers in the winter months while two breaks are accessible in the summer.
According to Mitch McNeil, the vice chairman of the Chicago chapter of the Surfrider Foundation, the break that Flodstrom was surfing at, Oak Street, was considered off limits.
When asked if the session was worth the jail time, Flodstrom chuckled.
"Yeah, it was actually pretty good…for a lake. But yeah, if I were able to surf my home spot and go take a hot shower, then it would've been a great session. But if I'd had known that I would be arrested and would have to spend four hours in a holding cell in a freezing wetsuit, then I probably wouldn't have paddled out."
Beaches are scheduled to reopen May 25.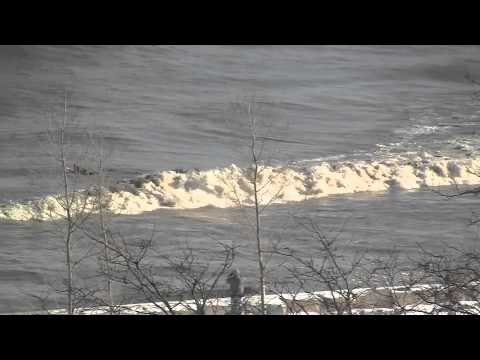 Page 1 of 2 | Next page
Other similar stories: